Kam Lung Motor Group
Privacy Policy Statement ("Privacy Policy")
Our commitment to protect your privacy
We, Kam Lung Motor Group ("KLM") are committed to protecting your Personal Data (as defined hereinafter) by complying with the requirements of Personal Data (Privacy) Ordinance (Cap. 486) (the "Ordinance"). KLM will ensure compliance by our staff with the strictest standard of security and confidentiality.
You are strongly recommended to read this Privacy Policy carefully to have an understanding of KLM's policies and practices with regard to the handling of Personal Data collected from you. If you have any questions or concerns regarding this Privacy Policy, you may contact our Customer Relations Department by writing to the following address: Room 708, Nan Fung Commercial Centre, 19 Lam Lok Street, Kowloon Bay, Hong Kong or email to unsubscribe@kamlung.com
By providing your Personal Data to us, you are consenting to this Privacy Policy and to the collection, use, access, transfer, storage and processing of your Personal Data as described in this Privacy Policy.
Collection of Personal Data
"Personal data" refers to any data or information from which an individual may be directly or indirectly identified ("Personal Data"). We on different occasions collect and use Personal Data that we believe to be relevant and necessary to conduct our business. The types of Personal Data we collect may include, but not limited to:
Contact information such as your name, email address, mailing address, telephone number, and fax number;
Unique identifiers such as your date of birth, HKID, passport number and driver's license numbers (or comparable);
Billing information such as your credit card number, bank account information, and billing address; and
limited location information (for example, an address code to help you find a nearby dealer or partner), user name and password.
Occasionally we may receive information about you from other sources which we will add to the information we already hold about you in order to assist us to provide, improve and personalise our services to you.
In general, KLM does not knowingly collect any Personal Data from any person under the age of 18. In any event, KLM will delete such Personal Data collected as soon as practicable after it is discovered.
If you choose not to provide your Personal Data, you will in most cases still be able to use this site. However, please note that it is mandatory to provide Personal Data marked with asterisks. In the event that you do not provide such Personal Data, we may not be able to provide you with some of our products or services or access to certain parts of our website which require registration, if any. Although you are not obliged to provide your Personal Data as requested, KLM will not be able to provide and administer products and services in the event that you fail to do so.
Use of Personal Data
The Personal Data provided by you or on your behalf to KLM from time to time as well as all other Personal Data related to you collected and held by KLM will be used for any of the following purposes (collectively, the "Purposes"):
purchase of products/services of KLM and/or other companies associated or affiliated with KLM;
using our website and online services;
processing your application for and providing vehicle insurance and/or financing or leasing of vehicles;
processing requests for test drives and transactions;
verifying your identity and identify you/any membership you held with us;
preventing fraud and enhancing the security of your account or our online services, responding to your requests and communicating with you;
managing your preferences;
conducting marketing of any goods or services provided by KLM, its subsidiaries, affiliates and associated companies;
providing you tailored content and marketing messages;
arranging for vehicle registration, insurance, hire purchase and/or leasing of the vehicles;
arranging for the maintenance, repair and other after-sale services of vehicles;
for authorized service dealer to conduct maintenance, repair and other after-sale services;
assessment, maintenance and improvement of our services;
providing you with customer service and responding to your queries, feedback or claims;
conducting market analysis, statistical or other surveys, research and studies;
marketing products and/or services of KLM and/or its affiliates, subsidiaries or associated companies and all other incidental and associated purposes directly relating thereto. Please refer to the section "Direct Marketing" below for further information;
customizing our website and its content to your particular preference;
notify you of any changes to our website or to services that may affect you;
processing billing and payment, determining outstanding amounts and, if necessary, collecting outstanding payments;
anticipating and resolving problems with any products/services supplied or to be supplied;
complying with the applicable laws of any jurisdiction;
making disclosure as required by any applicable law, rules, regulations, codes of practice or guidelines binding on KLM and/or its affiliates, subsidiaries or associated companies;
assisting in law enforcement and/or investigations by police or other government or regulatory authorities in Hong Kong or elsewhere;
achieving any other lawful purposes relating to any of the aforesaid purposes; and;
any other purposes incidental and directly related to any of the above.
We may also use data that we collect on an aggregate or anonymous basis (such that it does not identify any individual customers) for various business purposes, where permissible under applicable laws and regulations.
KLM will not be entitled to use your Personal Data for any purposes other than the Purposes without your express and informed consent in writing.
Usage and Other Information
In addition to the Personal Data described above, we may collect certain information about your use of our online services. For example, we may capture the IP address of the device you use to connect to the online service, the type of operating system and browser you use, and information about the site you came from, the parts of our online service you access, and the site you visit next. We or our third-party partners may also use cookies, web beacons or other technologies to collect and store other information about your visit to, or use of, our online services. In addition, we may later associate the usage and other information we collect online with Personal Data about you.
For your convenience, KLM may in the future offer you the ability to access some of our offers and services through mobile applications and mobile optimized websites. When you interact with us through such channels, we may collect information such as unique device identifiers for your mobile device, your screen resolution and other device settings, information about your location, and analytical information about how you use your mobile device. We may ask your permission before collecting certain information (such as precise geo-location information) through these channels.
Use of Cookies
A cookie is a small text file which is placed onto your computer (or other electronic device) when you access the site. We use cookies on the website to:
recognize you whenever you visit the site;
obtain information about your preferences, viewing and browsing behavior, online movements and use of the Internet;
keep track of the items stored in your shopping basket and take you through the checkout process;
carry out research and statistical analysis to help improve our services and to help us better understand our visitor and customer requirements and interests;
target our marketing and advertising campaigns and those of our business partners and advertisers more effectively by providing interest-based advertisements that are customized to your interests;
make your online experience more efficient and enjoyable; and
enable tighter security.
The information we obtain from our use of cookies may not contain your Personal Data. Although we may obtain information about your computer or other electronic device such as IP address, browser settings, browsing records, referring/ exit pages, operating systems, date/time stamp and/or other Internet log information, we may not be able to identity you personally. To the extent that non-Personal Data is combined with Personal Data, we treat the combined data as Personal Data for the purpose of this Privacy Policy.
In most cases we will obtain your consent in order to use cookies on this site. The exception is where the cookie is strictly necessary in order for us to operate our website and/or to provide you with a service you have requested.
If you want to disallow the use of cookies, you can do so on your own web browser. If you disable cookies, you acknowledge that you may not be able to use some of the functionality of the site.
Direct Marketing
KLM intends to use your Personal Data for direct marketing carried out by KLM and/or its subsidiaries, affiliates and associated companies, and for such purpose, your Personal Data held by KLM may be provided to any of our affiliates, subsidiaries or associated companies for their use for direct marketing. The intended kinds of Personal Data to be used and the intended classes of marketing subjects are specified in this Privacy Policy. However, we will only use your Personal Data when we have received your consent or where the use is permitted under the Ordinance.
For direct marketing use, KLM intends to use your name and contact information for (i) the supply of our products and/or services which we may offer to you or you may require from us from time to time and (ii) marketing, promotional and customer relationship management purposes, including but not limited to:
giving you updates on latest offers and promotions in connection with our products and services;
conducting market research;
brand activities;
car shows and customer activities;
motor-related services and products;
motor-related insurance;
motor sales and aftersales services; and
redemption gifts, loyalty, reward or privileges programs.
Suitable measures are implemented by KLM to make available to you the option to "opt-out" of allowing your Personal Data to be used in any of the described direct marketing purposes. You can opt-out free-of-charge by writing toour Customer Relations Department, Kam Lung Motor Group at Room 708, Nan Fung Commercial Centre, 19 Lam Lok Street, Kowloon Bay, Hong Kong or by sending email to unsubscribe@kamlung.com
Disclosure of Personal Data
Personal Data supplied to KLM will be kept confidential. KLM does not sell or trade your Personal Data with third parties and we strive to protect your privacy. However, we may disclose such data to or such data may become accessible or known to all or any of the following persons or entities to the extent necessary for achieving the Purposes:
our agents, service providers, contractors, and consultants who process data on our behalf, provide maintenance services of our database or data entry services or who otherwise provide us with administrative, telecommunications, computer, payment, data processing or storage, technical support, or other products/services;
our duly authorized employees who need to know such data in order to process it for us or for the performance of their duties;
our affiliates, subsidiaries or associated companies for Purposes mentioned above and all other incidental and associated purposes relating thereto for fulling the purposes for which it was collected (subject to any consent requirement relating to "Direct Marketing" above);
other companies to bring you co-branded services, products or programs;
any actual or proposed assignee, transferee, participant or sub-participant of KLM's rights or business; and
our professional advisers including financial advisers and legal advisers.
KLM may disclose the Personal Data to third parties under the following circumstances:
in cases where it is required by law, rules, regulations, codes of practice on guidelines binding on KLM or law enforcement agencies or a court order;
when we believe in good faith that disclosure is necessary to protect your safety or the safety of others or for the detection, investigation or prevention of illegal activities including fraud;
as a result of a sale, merger, acquisition, consolidation, group reorganization, change of control, liquidation, or transfer of our assets;
where KLM needs to protect and defend its legal rights and property; and
where KLM considers necessary to do so in order to comply with any applicable laws and regulations, or any orders or directions made or given by a court of competent jurisdiction.
KLM shall ensure that any disclosure is made in accordance with this Privacy Policy and is properly documented. Other disclosure of your Personal Data will only be made after we have obtained your prescribed consent, or as may be required by law.
Storage of Personal Data
Due to the international nature of our business, we may process and store your Personal Data outside Hong Kong. We may therefore transfer your Personal Data to our affiliate, subsidiary or associated companies outside Hong Kong for data processing and storage. This may involve a transfer of your Personal Data to a jurisdiction where the level of personal data protection may be different.
Your data may be transferred and stored outside of Hong Kong in a secure KLM system or a third party system under contract with KLM or a KLM affiliate. By submitting personal information to KLM or using any KLM website, you understand and consent to such transfer.
Data Retention
All Personal Data that has been collected from you may be retained for a period of time necessary for achieving the purposes for which it is collected or as long as required by applicable law.
In the event any law enforcement agency or regulatory body requests that any Personal Data collected by KLM be preserved for the purpose of an active investigation of a crime, the relevant Personal Data may be retained until such time when it is collected by the relevant law enforcement agency or regulatory body.
Data Security
KLM endeavors to take appropriate steps to ensure that your Personal Data will be protected. We use a variety of physical, technological and organizational measures to safeguard and secure your personal data from unauthorized or accidental access, processing, erasure or other use.
All KLM's staff members, contractors and service providers are required to strictly adhere to this Privacy Policy. All Personal Data provided by you are only accessible by KLM or its authorized third parties, and such personnel shall be instructed to observe the terms of this Privacy Policy when accessing such Personal Data. You may rest assured that their Personal Data will only be kept for as long as is necessary to fulfill the purpose for which it is collected.
Please however note that no data transmission over the internet can be guaranteed to be completely secured. As such, we do not guarantee the security of any data that are transferred from you or to you via the internet.
Third party websites
This Privacy Policy does not extend to third-party websites that may be linked from our website, or from any other broadcast affiliated with us.
Information about other individuals
If you give us information on behalf of someone else, you confirm that the other person has appointed you to act on his or her behalf and has agreed that you can:
give consent on his or her behalf to the processing of his or her Personal Data;
receive on his or her behalf any data protection notices;
give consent to the transfer of his or her Personal Data abroad; and
give consent to the processing of his or her Personal Data or other data.
Changes to the Privacy Policy
KLM hereby expressly reserves the right to update, revise, modify or amend this Privacy Policy at any time as KLM deems necessary and you are strongly recommended to review this Privacy Policy frequently. If KLM decides to update, revise, modify or amend this Privacy Policy, KLM will post those changes at www.kamlung.com and/or other places KLM deems appropriate so that you would be aware of any updates to our Privacy Policy.
If KLM makes material changes to this Privacy Policy, KLM will notify you on our website or by email.
Updating Your Personal Data
You are entitled at any time to request our confirmation as to whether your Personal Data has been collected by KLM and if so, access to your Personal Data held by us, or to request for correction or deletion of such data, or to withdraw your consent regarding its future use by KLM. We may charge a reasonable fee for the processing of such data access or correction or deletion requests.
You may direct your requests in writing to our Customer Relations Department, Room 708, Nan Fung Commercial Centre, 19 Lam Lok Street, Kowloon Bay, Hong Kong or by email to unsubscribe@kamlung.com
In the event that you wish to access or amend your Personal Data, KLM may request you to provide proof of your identity and all such requisite information to ascertain your identity.
Miscellaneous
This Privacy Policy shall be read in conjunction with other policy documents issued by KLM. If there is an inconsistency between any of the provisions in this Privacy Policy and other policy documents of KLM, the provisions in this Privacy Policy shall prevail.
This Privacy Policy shall be governed by and construed in accordance with the laws of Hong Kong.
This Privacy Policy is available in the Chinese and English versions. In the event of inconsistencies or discrepancies between the two versions, the English version shall prevail.
Copyright © 2020 Kam Lung Motor Group. All rights reserved.
Arrival of the all-new edition of Audi e-tron



Audi e-tron is now available with limited stock, grasp the chance to enjoy the luxurious pure electric experience! The all-new e-tron series is now showcasing in Taikoo Shing and Kowloon Bay showrooms and available for test drive.

All models of Audi e-tron line-up are standard equipped with quattro all-wheel-drive and adaptive air suspension with height adjustable up to 50mm. The cabin space is class-leading with its almost 3m long wheelbase. Range up to 452km.



Available from $699,800 under 1-for-1 scheme.


Aerodynamic design
with only 0.27 Cd
Electrically operated louvers control air-inlet through car front at various speed to maximise aerodynamic vs cool-air inlet
Air-curtain through wheel-arch inlet
Underfloor channel and spoiler optimise airflow for stability and minimum drag at high speed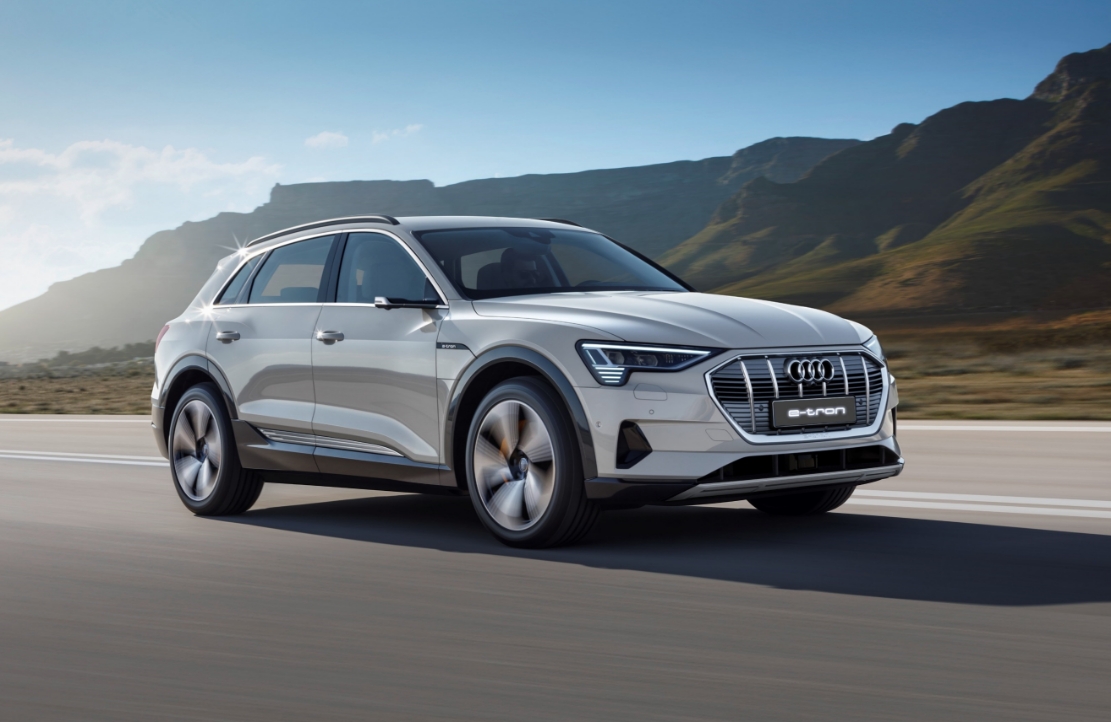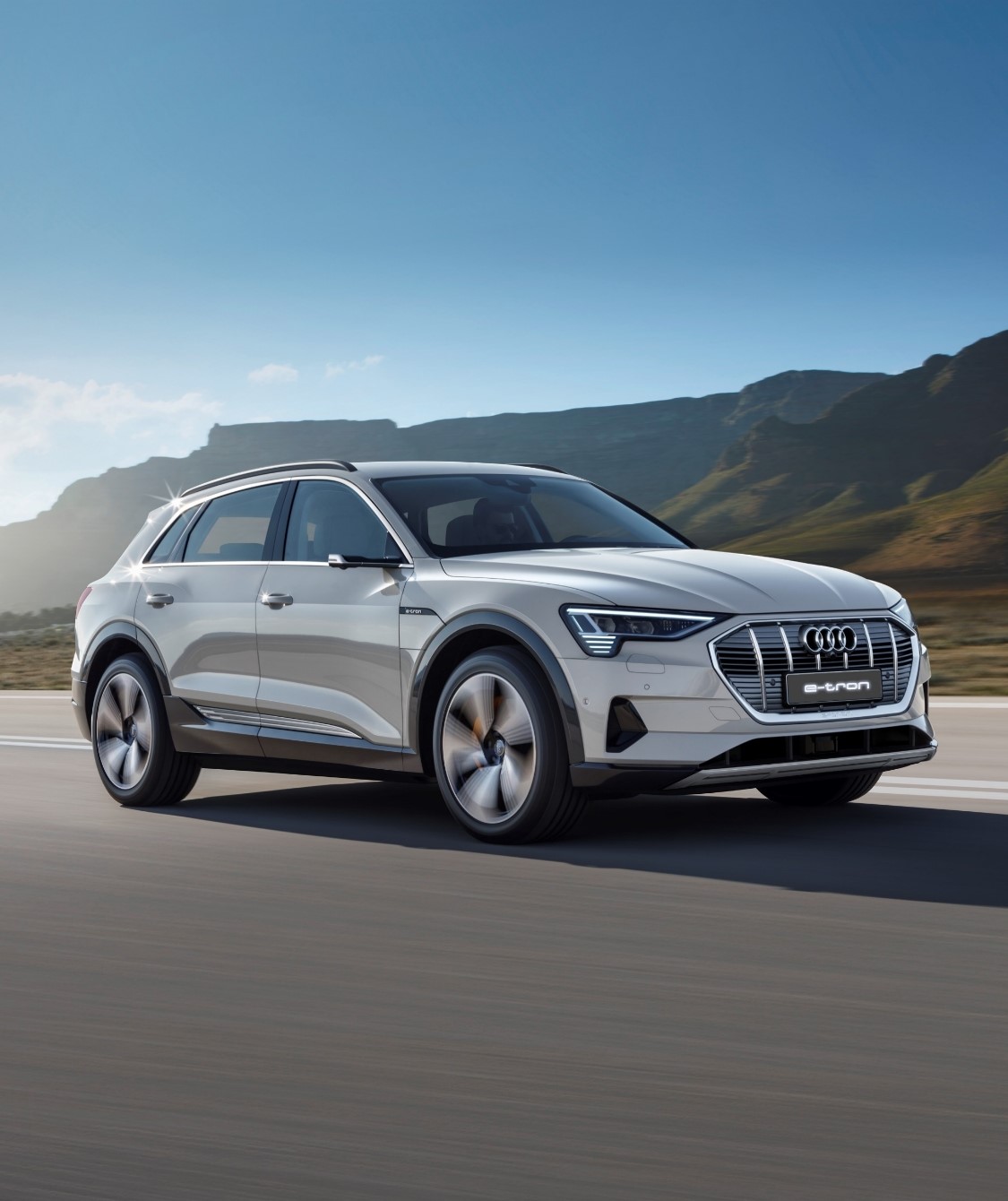 Integrated dynamic
LED rear lights
quattro® All wheel drive system.
Confidence in any weather and road conditions.

Maximise the effectiveness of EV instant torque acceleration
Adaptive air suspension as standard.

Provides ultimate comfort and balanced sporty driving experience.

Body height adjustable up to 50 mm.
Easy to get on and off and luggage loading.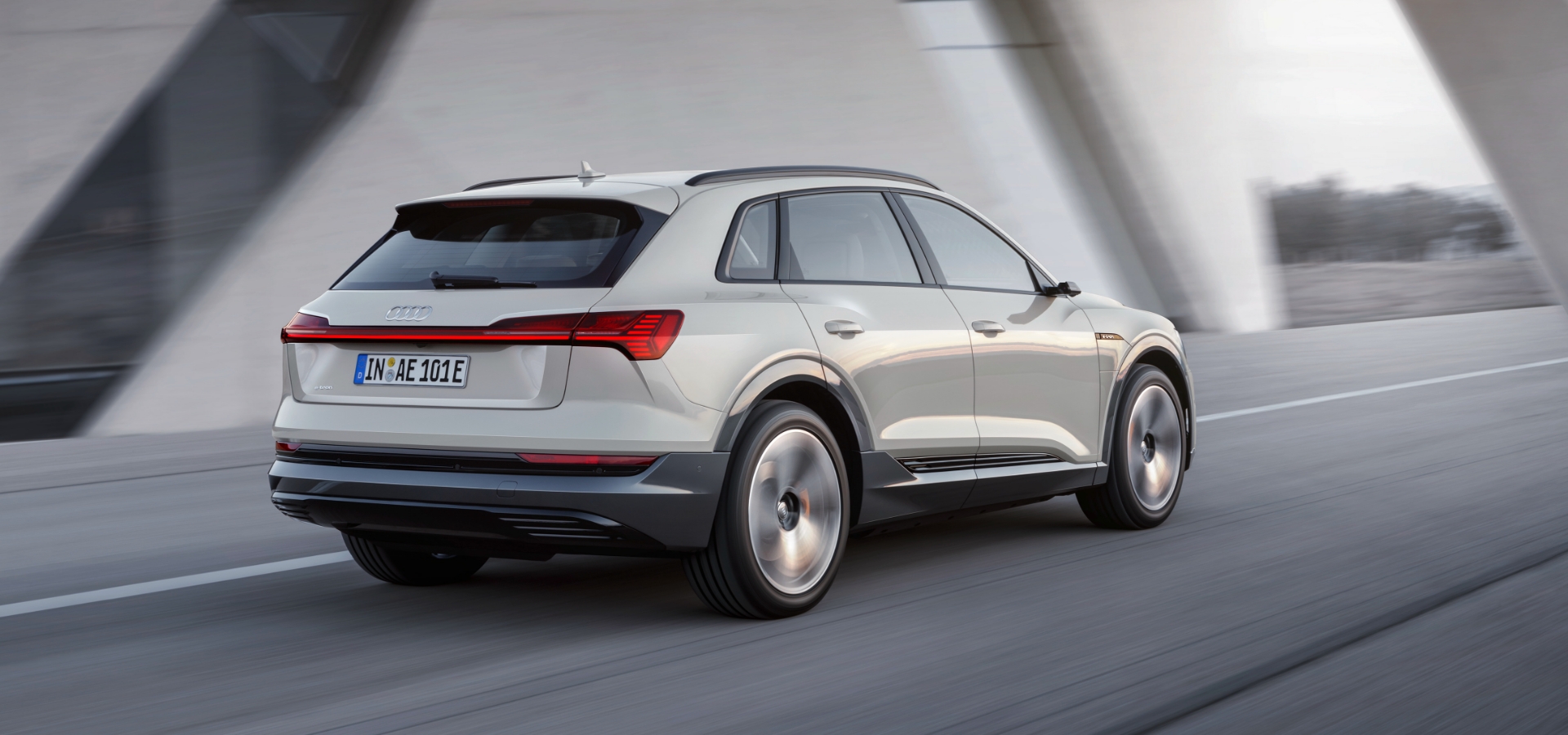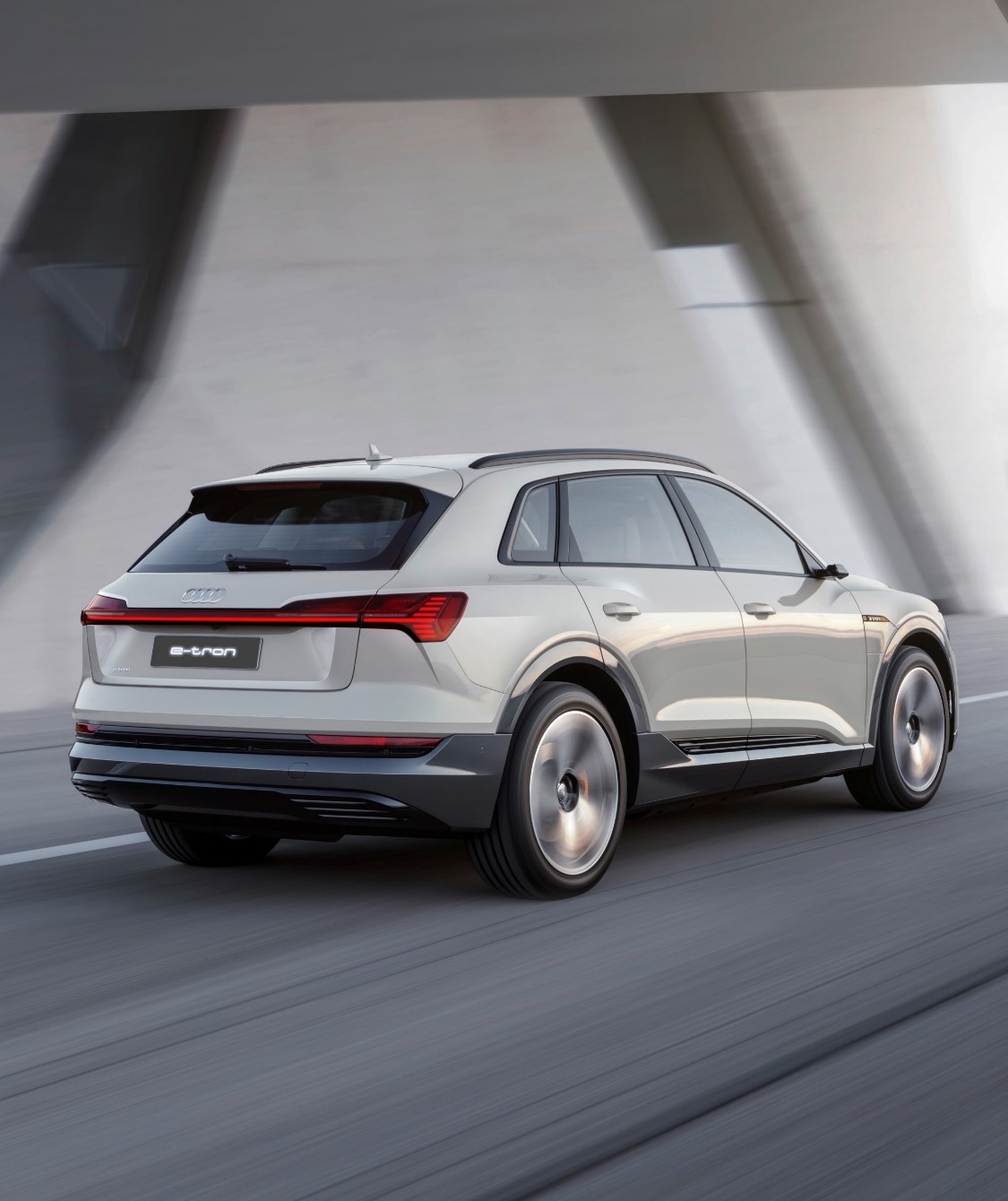 Luggage compartment
up to 660L
Rear manual
sunshade
Flat-floor design
Rear legroom up to 993mm
Shoulder room 1,450mm
Equipment may vary by model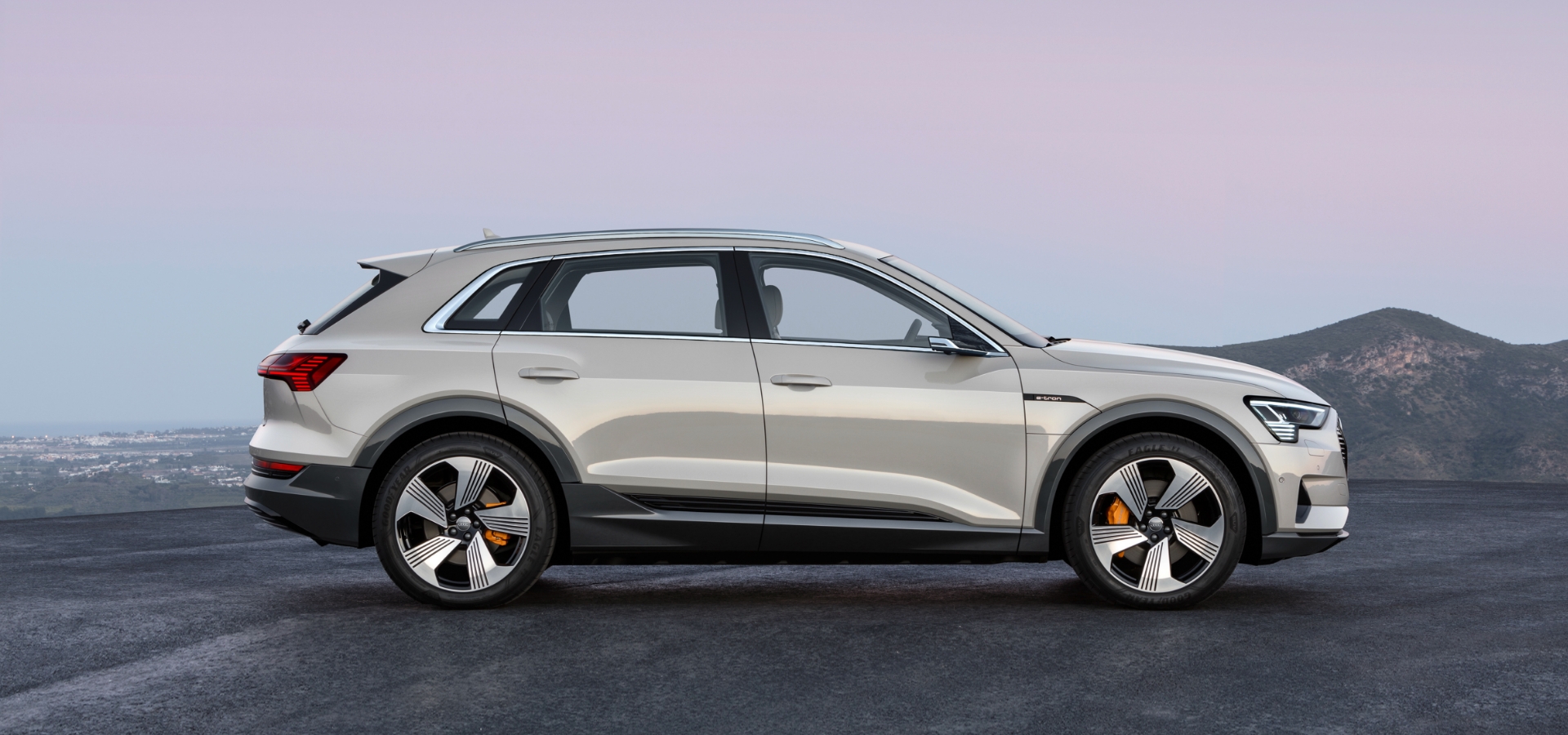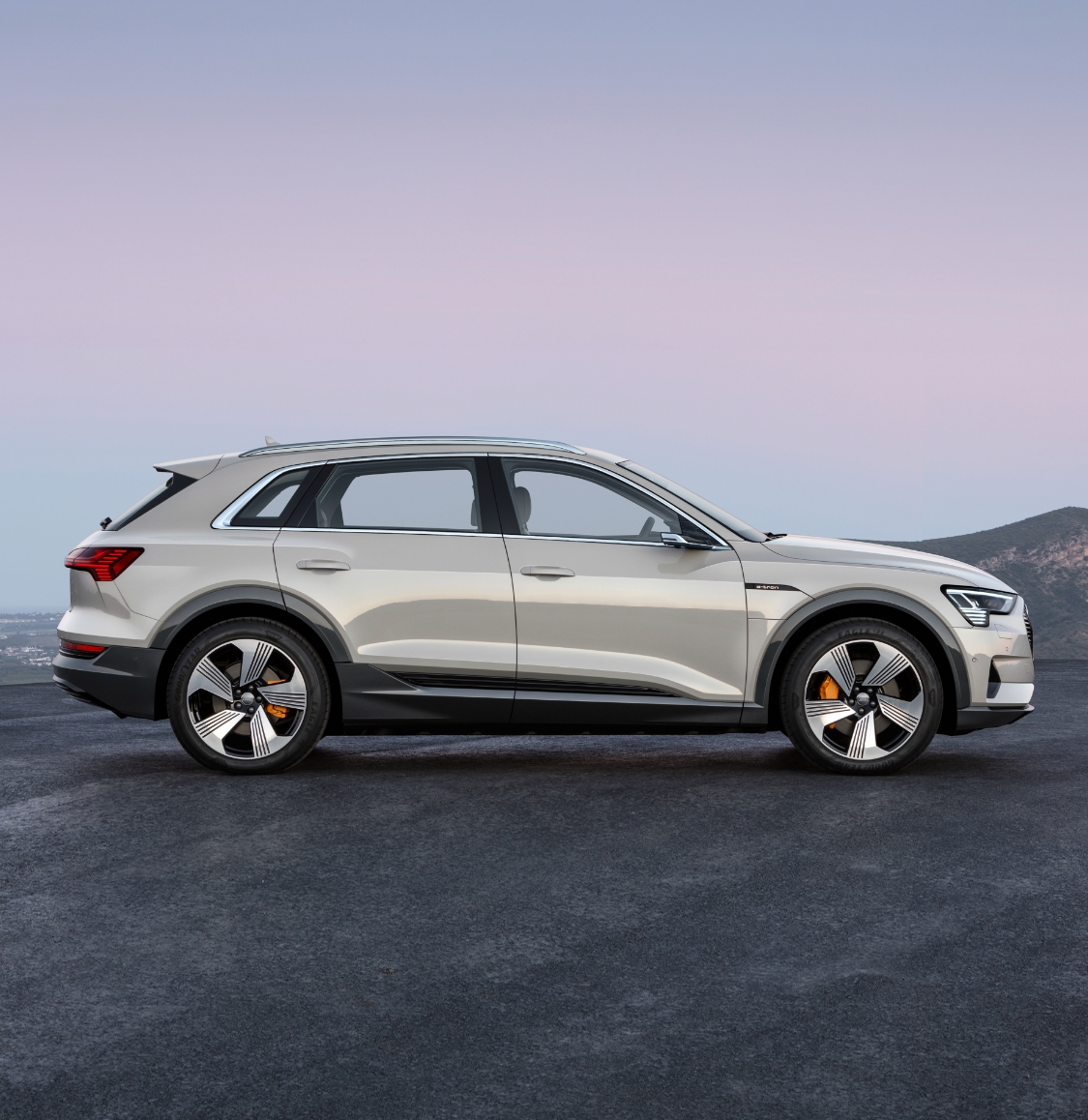 Space, defines luxury.

e-tron offers spacious rear legroom of 993 mm. Flat floor design, 4-zone air-conditioning, front ventilation seats, panoramic sunroof, B&O 3D sound system, microfibre sound insulation and adaptive air suspension - offering the ultimate luxurious experience for all senses.

Shift pedal controls
Multi-level brake recuperation
MMI supports
Apple CarPlay
Adjust seat angle and position of driver and passenger's seats, and control air-conditioning
Genuine Leather
Ventilated Seats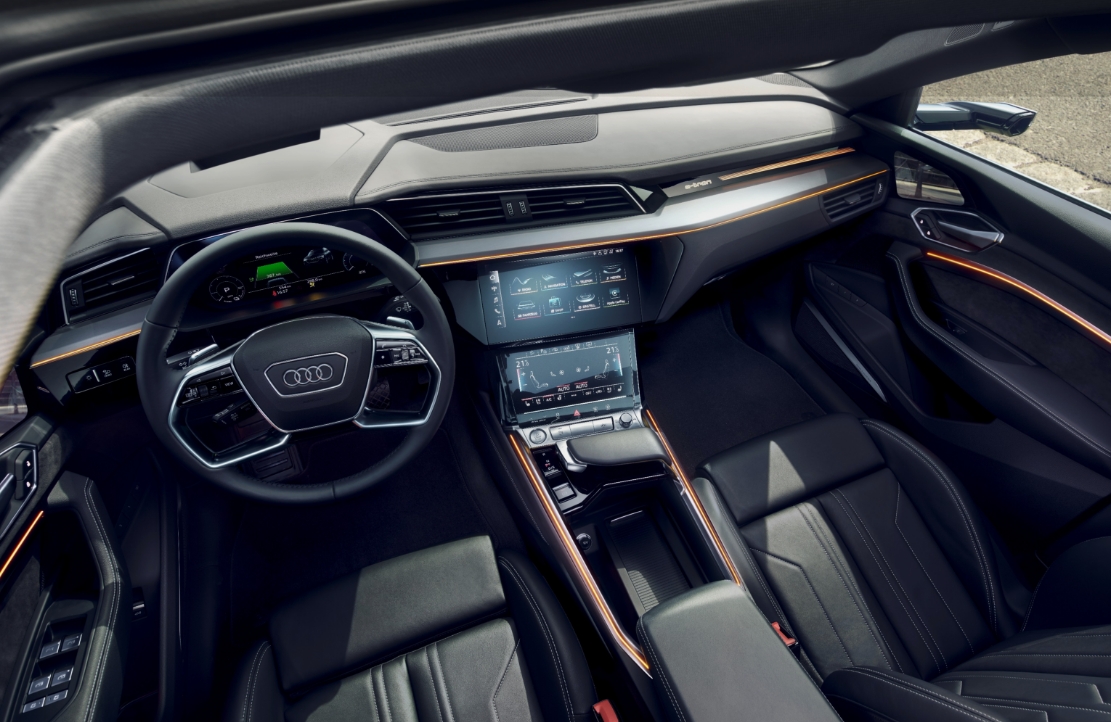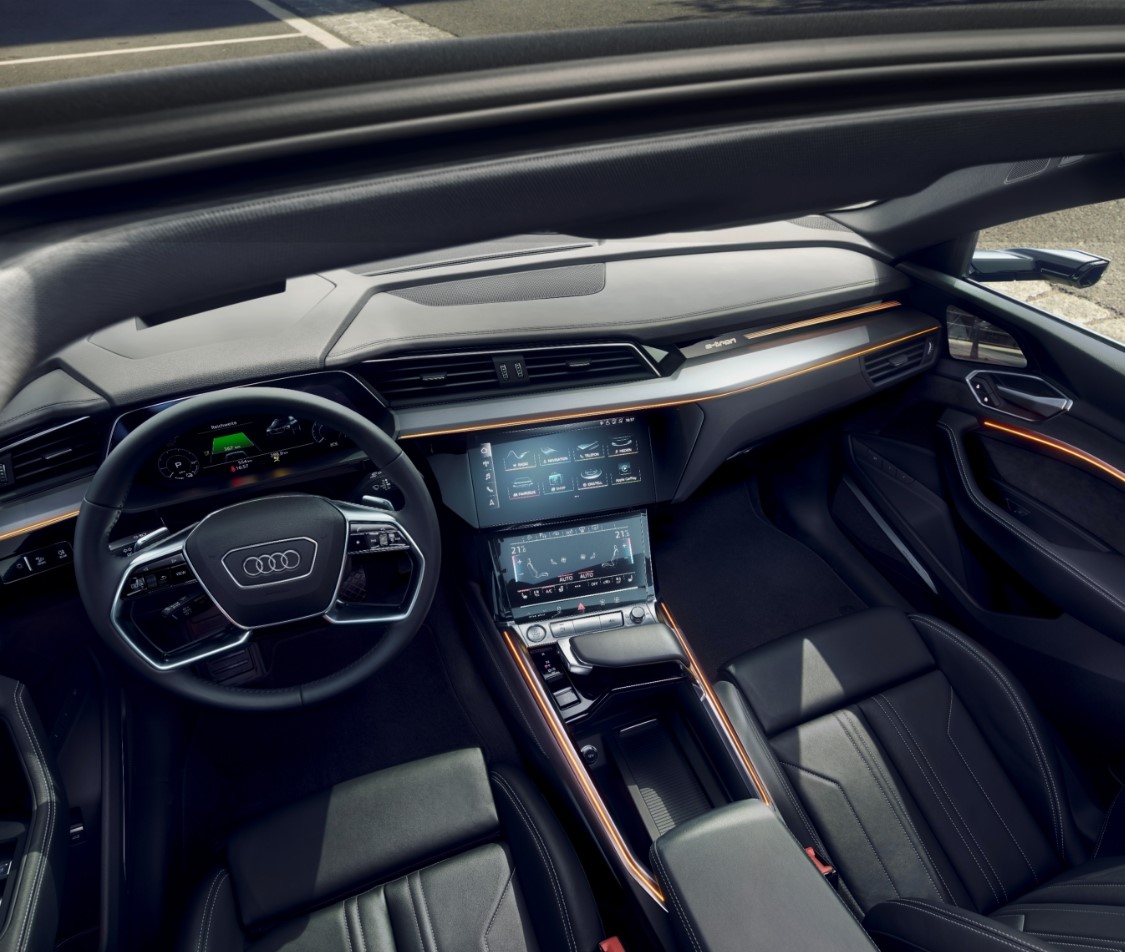 Space, defines luxury.

e-tron offers spacious rear legroom of 993 mm. Flat floor design, 4-zone air-conditioning, front ventilation seats, panoramic sunroof, B&O 3D sound system, microfibre sound insulation and adaptive air suspension - offering the ultimate luxurious experience for all senses.

900 colour combination
Ambient light
Rear manual
sunshade
4-zone
air-conditioning
Flat floor provie
spacious legroom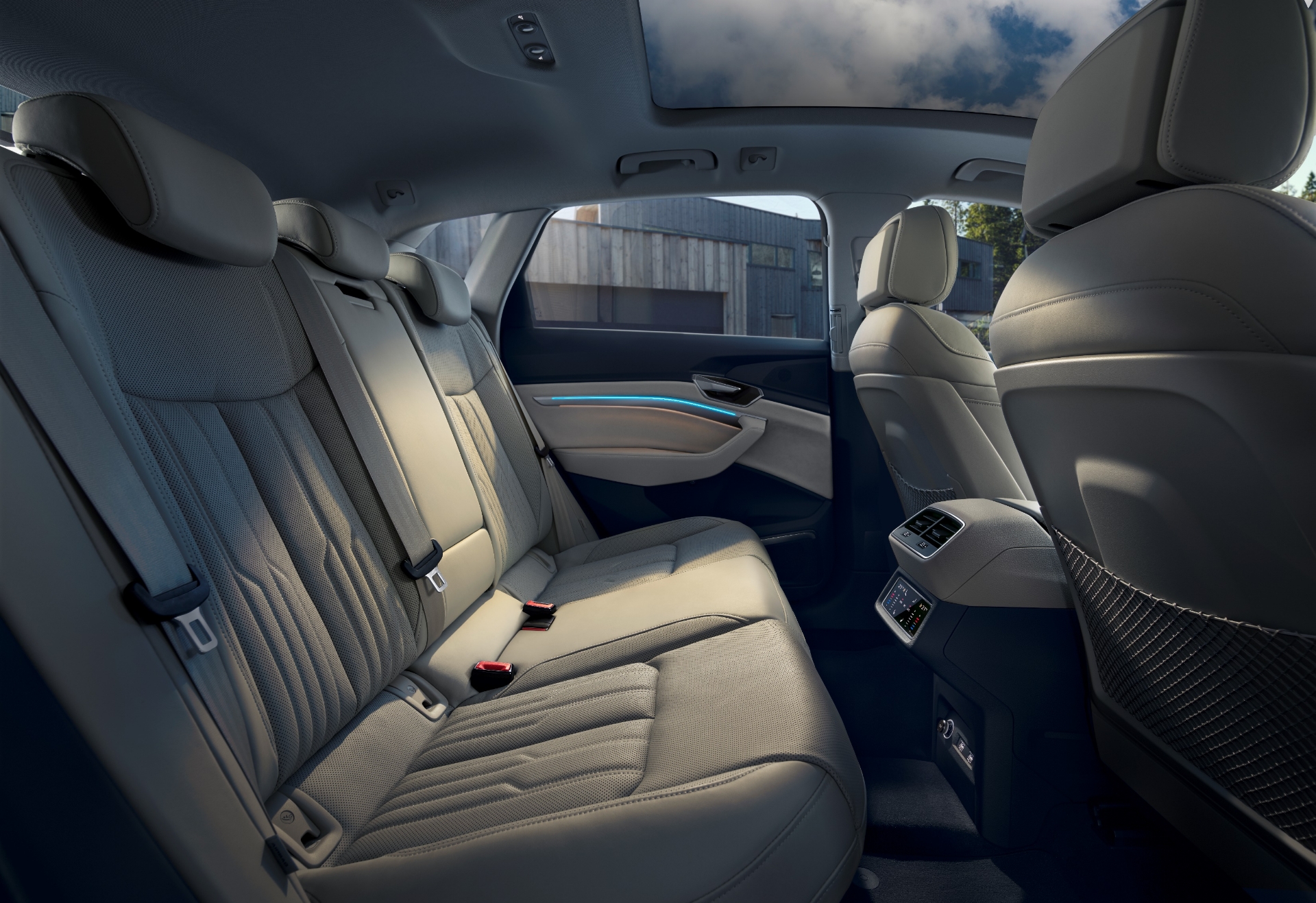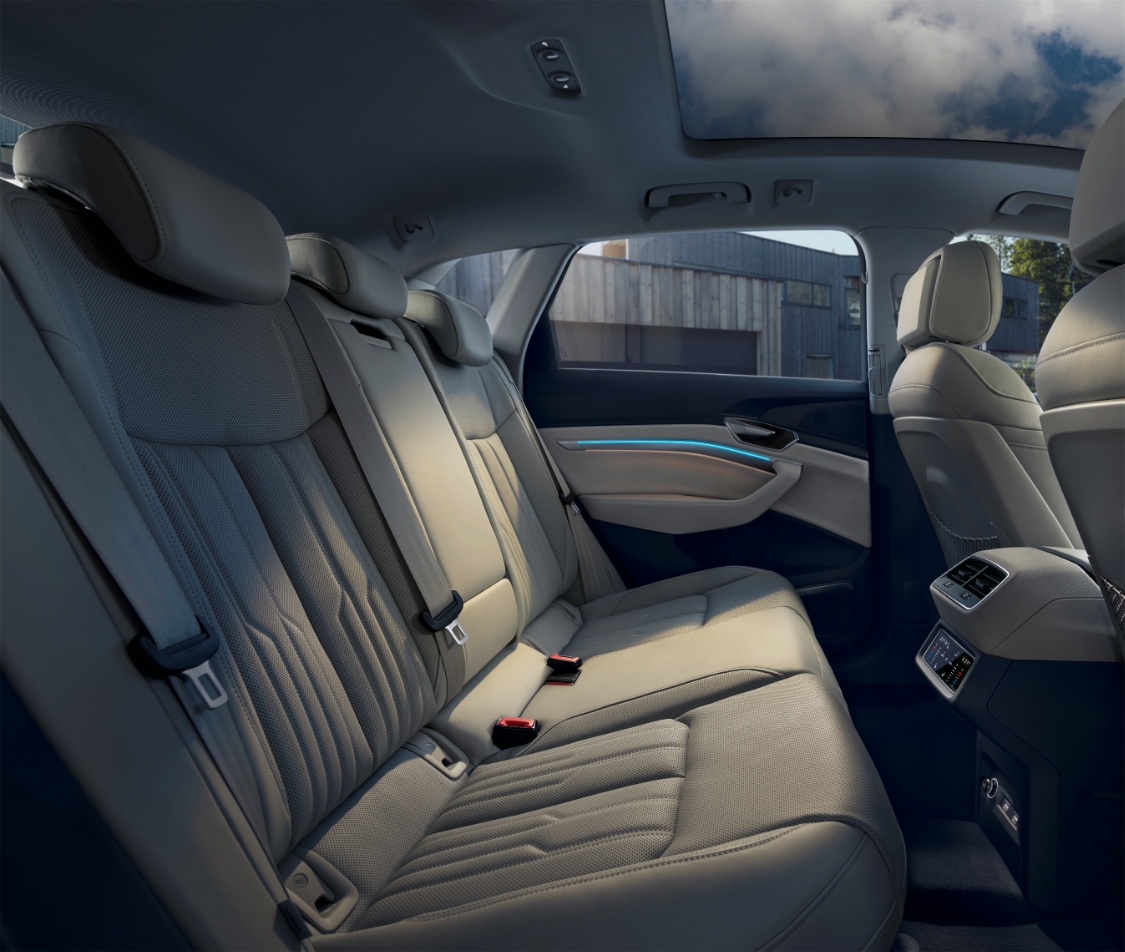 Pioneer technology to
elevate your vision
Virtual Mirror ensures clear vision at night and captures wide angle to minimise blind spots,
which allows safe driving under various conditions. Adjust, pan and zoom the cameras up to range of 26mm.
Audi connect
Keeping you and your car connected with your smart phone.

Charging status and
range monitoring

Pre-switching the
Climate control

Remote door
lock and unlock

Real-time vehicle
status monitoring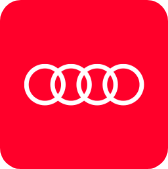 myAudi
mobile app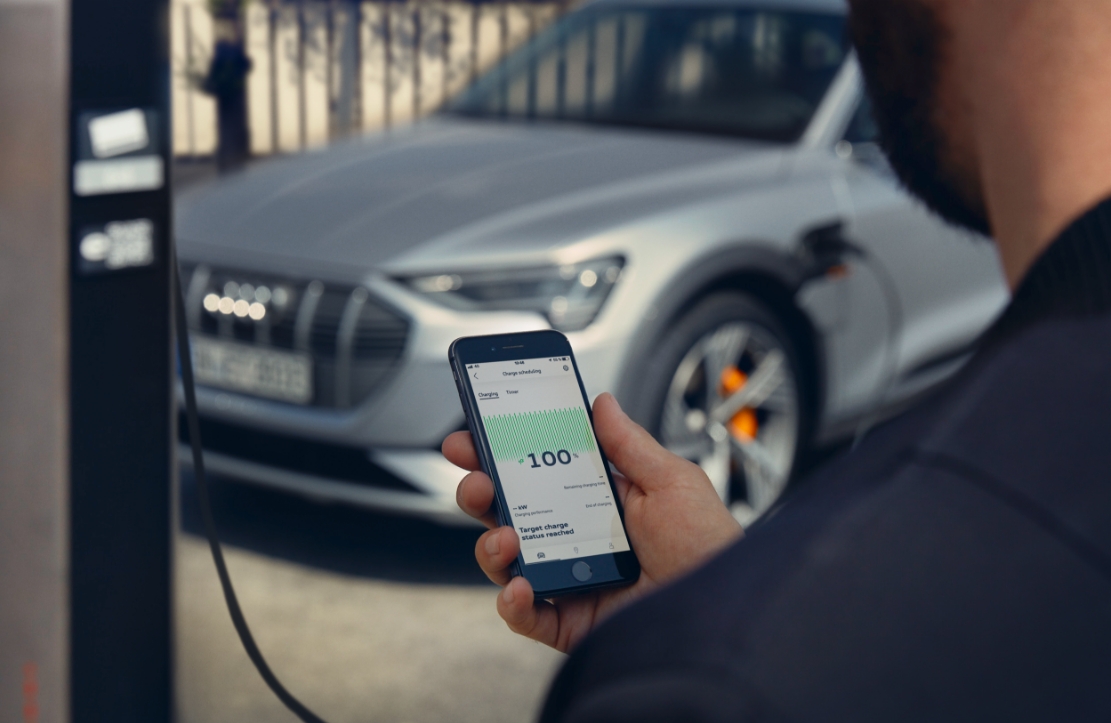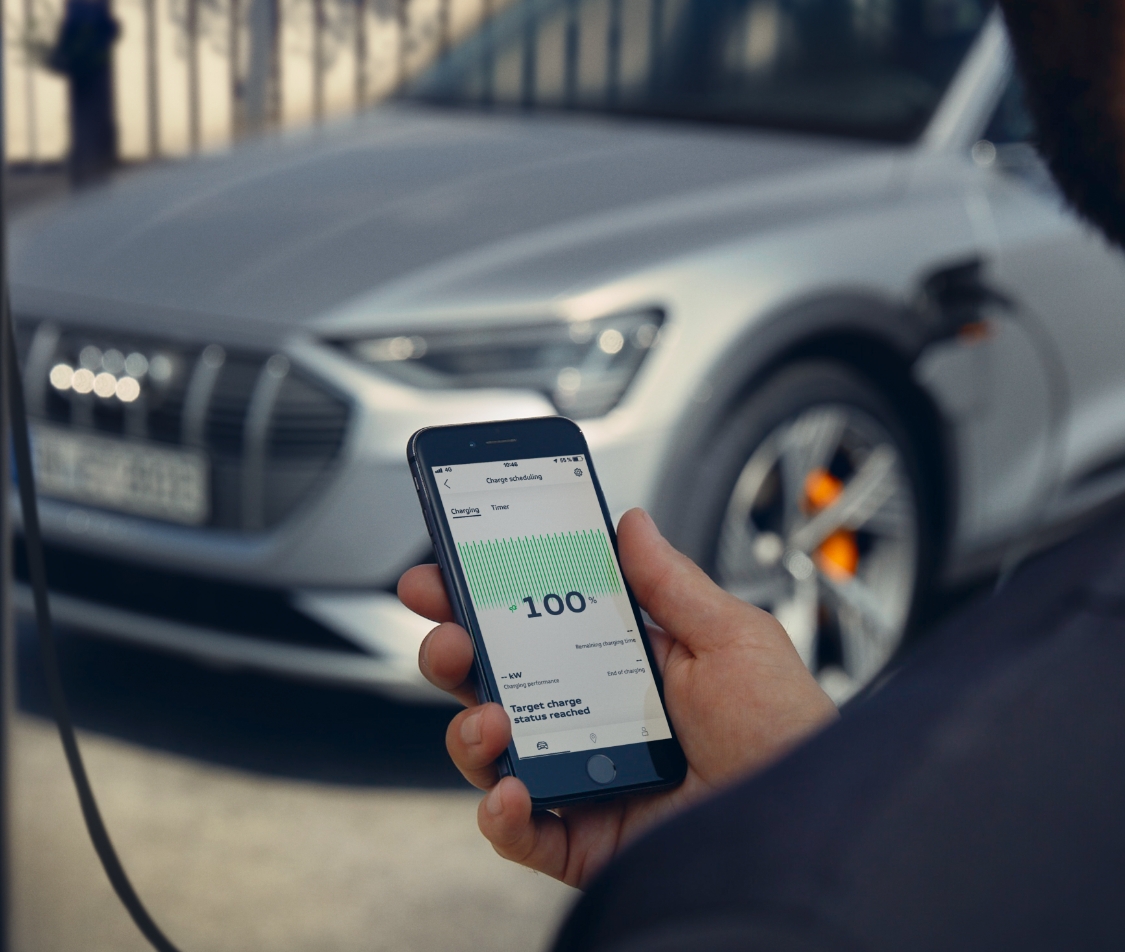 Support up to 150kW charging, capable to charge up to 80% of battery power in just 30 minutes.
MLB evo chassis allows the battery to perfectly fit underneath the car, benefitting a low centre of gravity for sports driving. The flat cabin floor creates spacious legroom for passengers.
Charging ports on both sides of the vehicle reduces distance from the charger cable.
Original 13A charger as standard
e-tron battery capacity
71 kWh - 95 kWh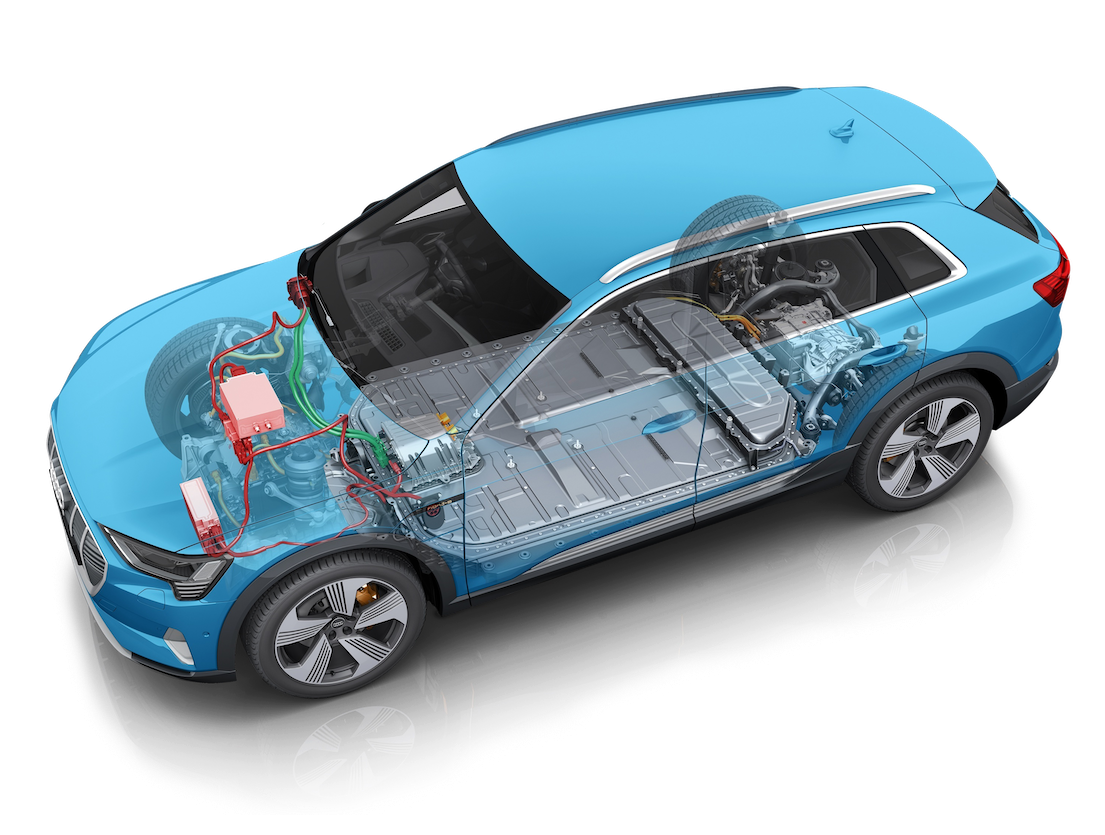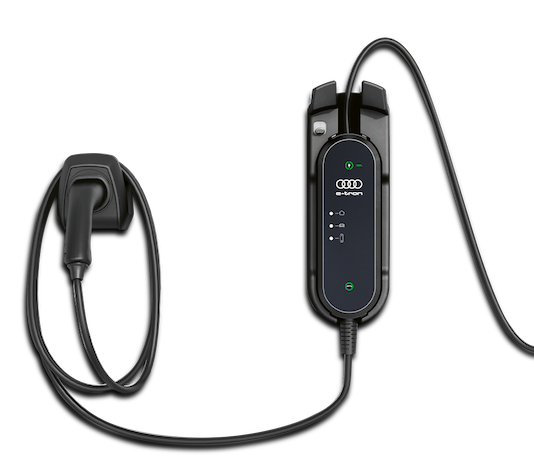 The all-new 2022 e-tron line-up
e-tron 50 quattro®
360 camera
Smartphone interface for Apple CarPlay
Adaptive air suspension
Lane departure warning system
Milano leather upholstery
e-tron 55 quattro®
Matrix LED headlight
Seat heating and ventilation in front
Power latching doors
Manual sunshade for the rear door windows
B&O Premium Sound System with 3D sound
e-tron Sportback 55 quattro® S-line
Matrix LED headlights
Automatic opening and closing tailgate
360-degree cameras
Four-zone deluxe automatic air conditioning
Lane departure warning system
Bang & Olufsen Premium Sound System with 3D sound
Order now to reserve the stock with HK$ 1,000 deposit
Kam Lung Motors Limited and Kam Lung Motor Group (the companies) intend to use your personal data (including your name, contact details and other information) for direct marketing of our services and goods that may be of your interest.
Your personal data held by us will be kept confidential, but we may use or process your personal data, or disclose or transfer your personal data to any of our affiliates, any third party financial institutions, insurers, researching service providers, marketing event contractors and external service providers under reasonable situations, for the purpose of direct marketing, including but not limited to:
(i) giving notification of new products, car accessories and upcoming services;
(ii) sending corporate newsletter and updates;
(iii) giving reminder for service maintenance, annual licensing and insurance renewal;
(iv) giving invitation to events and notification of special promotional offers; and
(v) conducting market, services or products analysis, or researching, developing or improving motor services or related products.
If you wish to amend or delete the personal data provided, please contact our Customer Relations Department at +852 2448 2768 or unsubscribe@kamlung.com。
I have read and agree to the
Privacy Policy
including Personal Information Collection Statement.
I hereby declare that the information provided in this form is true and correct. I also understand that in case of dispute, the decision of Kam Lung Motors Limited & Kam Lung Motor Group shall be final.
I do not wish to receive direct marketing materials or messages from Kam Lung Motors Limited & Kam Lung Motor Group.
Audi e-tron line-up online pre-order terms & conditions:
1. Reserve a production quota of the Audi e-tron line-up through online deposit payment on this pre-order website by Audi Hong Kong - Kam Lung Motors Ltd (stated as "Audi HK" below). Model availability is based on a first-come-first-served basis. Date of delivery and vehicle equipment are subject to actual inventory status.
2. Price inclusive of the additional FRT Subsidy of HK$190,000 under the HKSAR's One-for-One Replacement scheme.(FRT for e-PCs up to HK$97,500)
3. Upon completion of the HK$1,000 intentional deposit payment, you will receive an email confirmation from Audi immediately. Audi sales consultant will contact you within 36 hours to complete the full deposit payment procedures at Audi showrooms.
4. All vehicles are offered with limited production quotas. A reservation is considered to be successful according to the submission time sequence of the signed sales contract with the completion of full deposit payment at Audi Showrooms.
5. The HK$1,000 intentional deposit made on this pre-order website will be deducted at the full deposit on e-tron 50 quattro®, e-tron 55 quattro® or e-tron Sportback 55 quattro® S-line.
6. The intentional deposit can be refundable or transferable to other Audi models.
7. Before submitting the registration form, please ensure all the information provided is correct. The registered name and the name of the new car owner shall remain the same, the paid deposit is non-transferrable.
8. After signing the sales contact and completion of the full deposit payment, the paid deposit is non-refundable.
9. Vehicle model, equipment and price on this pre-order website are for reference only. Final equipment and price are subject to the signed sales contract upon your selection.
10. By making this online deposit payment, you agreed that you are at least 18 years of age or above and you agree to all our terms & conditions and privacy policy. No refund will be granted however for use of a credit card without the cardholder's consent or the use of a false identity to reserve a vehicle. An order made under such circumstances will automatically be cancelled.
11. All personal and payment information provided must be correct and belongs to you, or that of an individual or company for which you have been authorized to provide. You may be requested to provide relevant proof of authorization.
12. Audi HK does not bear any responsibility for any unsuccessful order placement resulting from incomplete, incorrect, or unclear data provided or due to website system or online transfer issues.
13. Delivery time for reference only, based on importer and OEM forecast under normal production and transport situation. Actual delivery time may vary dependent on production, transport, Hong Kong transportation department licensing processes or other factors.
14. Autonomy range stated in WLTP figures provided by OEM documents for reference only. Actual figures may vary dependent on driving, vehicle, road conditions and other factors.
15. The Chinese version of the terms & conditions of Audi e-tron line-up online pre-order shall prevail. No prior notice would be provided for any updates or amendments.
16. Audi HK reserves the right to change prices, accessories, models and equipment without prior notice. In case of any dispute, the decisions of Audi HK shall be final.
Before submitting the form, please ensure that the information provided is accurate and that it is the same as the identity document provided when signing the sales contract.

After confirming your order, please click the button below to go to the payment page.
Intentional deposit
HK$1,000